Uptown Kitchen & Taphouse is your perfect neighborhood pub, with delicious beer and a full service, family friendly restaurant.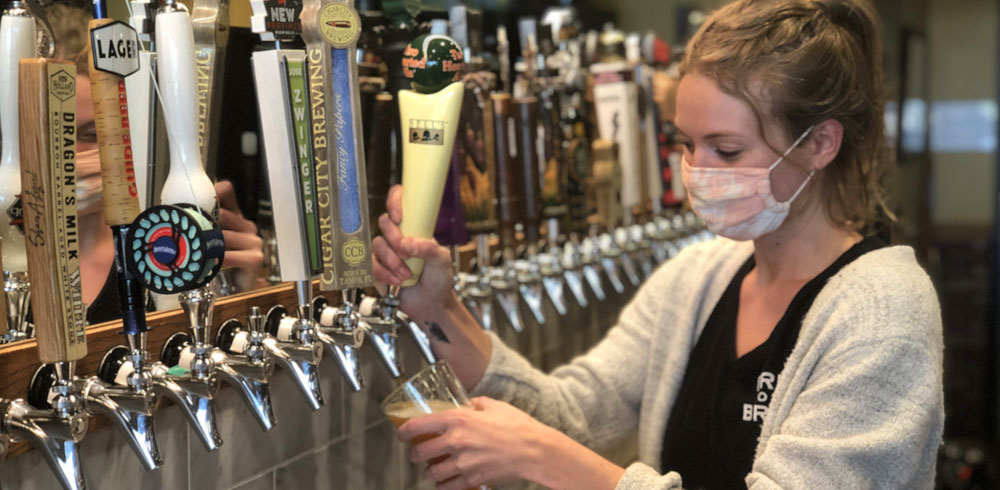 We are open 7 days a week for lunch and dinner, and are proud to be owned and operated by local couple Seth and Mary McDaniel. Come see us today!
Experience the best in quality American craft beer and food at our Kitchen and Taphouse in Rogers. Come enjoy a variety of beverages, from the best local and regional craft beers, draught wines, keg'd cocktails, and hard ciders to non-alcoholic locally brewed root beer.
Our 100 taps are complemented by delicious cuisine in a welcoming, beautifully-designed neighborhood atmosphere. Join us for lunch or dinner seven days a week — and make sure you try a craft beer flight when you stop in! Let our Cicerone® Certified Beer Servers recommend beverages to complement your gastronomical choices from our menu.
Follow us on Facebook to get more information on our upcoming Tap Takeovers, Trivia Nights, and more. Look us up on Untappd for our always-updated beer menu.
We're located west of Interstate 49 off W. Pauline Whitaker Parkway. We look forward to serving as your craft beer destination!
We have the largest selection of Craft Beer on tap in Arkansas. Our amazing food menu is designed to pair perfectly with the many styles of beer. We are advocates for the craft beverage community. We support the craft beer movement in America. We believe craft brewers have a specific intent for how their product is to be enjoyed. And so, with every fiber of our being and every detail of our operation, we take great care to see that intent carried out from the moment we receive the keg to the instant that product meets our guests' eyeballs, olfactories, and taste buds.